My grandfather, Richard Kandelmann on board the Dunera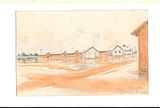 I thought I would share the details of my grandfather's experience on the Dunera. He was also interred at the Hay Camp in Australia.
I have his diary, which gives many details of his experience. Newspaper clippings, and watercolors.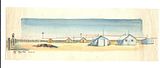 His name was Richard Allen Kandelmann, an Austrian Jew, who escaped Hitler during WWII.  I am posting an excerpt from his diary along with various watercolors, etc! I dearly hope I do not overdo the posts.